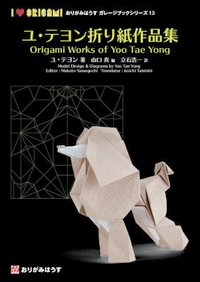 Origami Works of Yoo Tae Yong
Published:

2016 by Gallery Origami House

Pages:

180

Binding:

Paperback

Language:

Japanese and English
| | |
| --- | --- |
| Skill Level | Complex |
| Clear diagrams? | Yes |
| Tinted diagrams (to show 2 sides of paper)? | Yes |
| Photos of completed models? | Yes |
| Is there indication to the model size resulting from size of starting paper? | No |
| Are the models "Pure" origami (From a single square - no cuts)? | Yes |
Overall Impression
I have been a fan of Yoo Tae Yong's work for a while, so was excited to hear about his collection of original works coming out. Yong subscribes to the Genuine Origami style: precise folding using geometrical landmarks, with little to no shaping required. Most designs use both sides of the paper, taking advantage of the 2 colors in the finished model.
This book collects his old and new designs. A few have been included in other publications, but most are new to me. Complex folding abilities are required, as the models incorporate interesting, finger-busting folding processes. All are expertly diagrammed, though. One of my favorite moves in the book is the creation of the chameleon's head - which pops out almost complete with a single pull of a layer.
Highly recommend this book for anyone looking for a fun origami challenge.
There are 20 Origami Designs in Origami Works of Yoo Tae Yong: