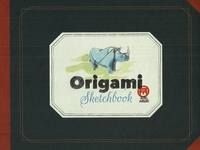 | | |
| --- | --- |
| Skill Level | High Intermediate |
| Clear diagrams? | Yes |
| Tinted diagrams (to show 2 sides of paper)? | Yes |
| Photos of completed models? | Yes |
| Is there indication to the model size resulting from size of starting paper? | Yes |
| Are the models "Pure" origami (From a single square - no cuts)? | Most are |
Overall Impression

I have been immensely enjoying this book. Morollon's style reminds me of Akira Yoshizawa's, creating designs which are simple enough to fold, yet offer endless opportunities for expression. While many of the designs would benefit from using the wet-folding technique, all can be folded from pretty much any paper.
The diagrams are beautifully water-colored by the author, giving the book a look not unlike a 19th century scientist's notebook, and each design is accompanied by extensive design notes.
A fun book, simple and challenging at the same time! With only 12 designs included, I do wish a second volume is in the works.
There are 12 Origami Designs in Origami Sketchbook: