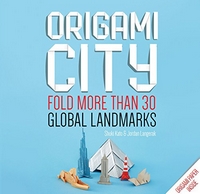 Origami City
Published:

2015 by Rockport

Pages:

144

Binding:

Spiral-bound

Language:

English

ISBN-13:

9781631590269

ISBN-10:

163159026X
Buy from: Amazon.com
Buy from: Amazon.jp
| | |
| --- | --- |
| Skill Level | Simple to complex |
| Clear diagrams? | Yes |
| Tinted diagrams (to show 2 sides of paper)? | Yes |
| Photos of completed models? | Yes |
| Is there indication to the model size resulting from size of starting paper? | No |
| Are the models "Pure" origami (From a single square - no cuts)? | Yes |
Overall Impression
An interesting book with an unusual theme, Origami City collects city and landmark-themed designs from two talented contemporary origami designers. Designs range from things you're likely to find in a city, such as houses, traffic signs and even a pigeon, to well known landmarks from around the world like the Empire State Building, The Leaning Tower of Pisa, the Tokyo tower and many more.
Difficulty level varies from the relatively simple car and stop sign to the quite complex buildings. Most designs tend to be on the complex side, though, so I would not recommend the book to absolute beginners. The diagrams, while in good quality, are small, dark purple and yellow, so geezers like me should work under sufficient light.
One complaint that I'd bet the authors hear a lot, is that the index lists many designs which, while featured as photos in the book, have no instructions whatsoever (Statue of Liberty, where art thou?). Maybe in volume 2?
The production throughout is appealing, with lovely photos and some flavor text on each design, and spiral binding to keep the book flat while folding. Also included with the book is a stack of high quality paper for folding. This is not typical origami paper as it stronger, and is the same color on both sides, but it matches the projects quite well.
There are 30 Origami Designs in Origami City: