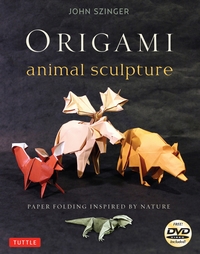 Origami Animal Sculpture
Published:

2014 by Tuttle Publishing

Pages:

128

Binding:

Paperback

Language:

English

ISBN-13:

9784805312629

ISBN-10:

4805312629
Buy from: Amazon.com
Buy from: Amazon.jp
| | |
| --- | --- |
| Skill Level | Intermediate to complex |
| Clear diagrams? | Yes |
| Tinted diagrams (to show 2 sides of paper)? | Yes |
| Photos of completed models? | Yes |
| Is there indication to the model size resulting from size of starting paper? | No |
| Are the models "Pure" origami (From a single square - no cuts)? | Yes |
Overall Impression
John Szinger has a knack for creating complex-looking designs with ample attention to details, which are actually not incredibly complex to fold. The models, covering a wide range of the animal kingdom, as well as a few objects, using an innovative array of folding sequences, are well-designed, maximizing the surface of the paper and making them suitable for folding from almost any type of paper. The author does suggest the most suitable paper and starting size for each design.
The book itself is beautifully produced, printed on glossy paper and in full color, with multiple large photos accompanying each design.
Also included is a DVD containing full video instructions to 12 of the designs. It is also well-produced, with over-the-shoulder footage of the designer demonstrating the folding process.
I would recommend this book for intermediate to complex folders, as the instructions do assume some folding experience, with adjustments and estimations required here and there. But other than that, this is the kind of origami book I'm always happy to see.
There are 22 Origami Designs in Origami Animal Sculpture: