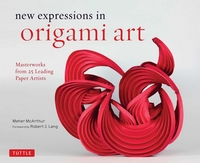 New Expressions in Origami Art
Published:

2017 by Tuttle Publishing

Pages:

192

Binding:

Hardcover

Language:

English

ISBN-13:

9780804846776

ISBN-10:

0804846774
Buy from: Amazon.com
Buy from: Amazon.jp
Overall Impression
A true showcase of contemporary origami, this beautiful book introduces the work of 25 of today's prominent origami artists worldwide. Meher McArthur, an art curator, shines the light on all styles of origami. From figurative origami to modular, abstract, and even politically-charged designs. Each artist discusses their inspiration, influence, and what origami means to them; and each offering a different interpretation of the art. I enjoyed seeing how many of the artists are connected, sometimes using one artist's idea as a launch point of their own path.
Fascinating text, with gorgeous photographs, made me feel as if I'm in a large origami exhibit, being led by a knowledgeable guide.
An inspirational read, I'd recommend this book to all lovers of origami, and to anyone interested in learning about the state of origami as an art today.
There are 1 Origami Designs in New Expressions in Origami Art: