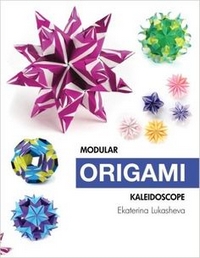 Modular Origami Kaleidoscope
Published:

2016

Pages:

82

Binding:

Paperback

Language:

English

ISBN-13:

9780997311945

ISBN-10:

0997311940
Buy from: Origami-shop.com
Buy from: Amazon.com
Buy from: Amazon.jp
| | |
| --- | --- |
| Skill Level | Intermediate |
| Clear diagrams? | Yes |
| Tinted diagrams (to show 2 sides of paper)? | Yes |
| Photos of completed models? | Yes |
| Is there indication to the model size resulting from size of starting paper? | No |
| Are the models "Pure" origami (From a single square - no cuts)? | Modular |
Overall Impression

Ekaterina Lukasheva's books are a delight for modular folders. Quick and simple modules create dazzling constructions, brought to life in the book with beautiful photographs and clear color diagrams.
While folding the modules is easy, putting them all together can sometimes be more challenging. This is why the author offers several detailed construction methods that can be applied to the designs. Also provided are instructions for getting paper with the proportions needed for the non-square units.
Each design comes with suggestions for paper size and pattern type to use, and most 30-unit constructions can be made from 12 units, as well.
There are 25 Origami Designs in Modular Origami Kaleidoscope: