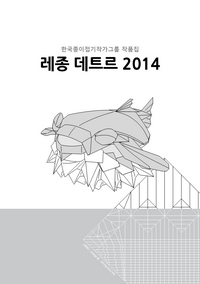 Raison d'etre 2014
Published:

Pages:

80

Binding:

e-book

Language:

Korean and English
Buy from: Origami-shop.com

| | |
| --- | --- |
| Skill Level | Complex |
| Clear diagrams? | Yes |
| Tinted diagrams (to show 2 sides of paper)? | Yes |
| Photos of completed models? | No |
| Is there indication to the model size resulting from size of starting paper? | No |
| Are the models "Pure" origami (From a single square - no cuts)? | Yes |
Overall Impression

This little book brings us 6 complex models from some of the best talented folders in Korea.
Each designer, introduced by a short bio, presents a masterpiece. The subjects include representational mammals and fish, as well as a fun 3-lined slipper, and a somewhat abstract concept of life and death, presented by a growing tree contrasted with a stump, all from one sheet. My favorite here is Yoo tae-yong's bat, with a pleasant folding sequence and spectacularly detailed facial features.
The diagramming of these projects is of the highest standards. I'd highly recommend this book for complex folders.
There are 6 Origami Designs in Raison d'etre 2014: