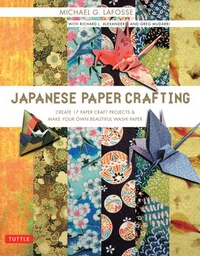 Japanese Paper Crafting
Published:

2014 by Tuttle Publishing

Pages:

128

Binding:

Paperback

Language:

English

ISBN-13:

9784805312926

ISBN-10:

4805312920
Buy from: Amazon.com
Buy from: Amazon.jp
| | |
| --- | --- |
| Skill Level | Simple |
| Clear diagrams? | Yes |
| Tinted diagrams (to show 2 sides of paper)? | Yes |
| Photos of completed models? | Yes |
| Is there indication to the model size resulting from size of starting paper? | No |
| Are the models "Pure" origami (From a single square - no cuts)? | Varies |
Overall Impression
More than a book about origami, this is a book about paper. Michael G. LaFosse and Richard L. Alexander run Origamido Studio, where they make their own folding paper, and here they share their knowledge of making different types of Washi paper, all with photo illustrations.
The projects in the book include mostly simple, traditional designs, chosen to show off the quality of the special paper. Several variations of connected cranes and Noshi, and a few practical folds. Some non-origami projects are also included, such as a vase-cover and a book-binding technique. The instructions are a combination of standard diagrams and photographs.
The book is full of beautiful photos, and I highly recommend it to anyone interested in paper, folders or non-folders.
There are 9 Origami Designs in Japanese Paper Crafting:
Design
Designer
Page
Details
Photo

Show only designs with photos
Crane
Traditional
52
Square

Also in A Thousand Cranes by Florence Temko
Also in Atlas de l'Origami
Also in Classic Origami by Paul Jackson
Also in Complete Origami by David Mitchell
Also in Complete Origami by Eric Kenneway
Also in Creased Magazine 6
Also in Creating Origami by J.C. Nolan
and in other sources...
Senbazuru
Traditional
57
Rectangle
With cuts

Several variations
Noshi
Traditional
64
Square

Several variations
Sailboat envelope
Michael G. LaFosse
72
Square

Also in Origami USA Convention 2000
Also in CDO convention 2001
Also in Folding Australia 2007
Also in Origami Kit for Dummies by Nick Robinson
Also in Origami Stationary by Michael G. LaFosse
Also in Trash Origami by Michael G. LaFosse and Richard L. Alexander
and in other sources...

Folded by Michel Grand
Masu box
Traditional
76
Square

Also in Creative Origami and Beyond
Also in Enjoy Origami in English (Joy of Origami!) by Satoshi Takagi
Also in NOA Magazine 134
Also in NOA Magazine 165
Also in NOA Magazine 167
Also in NOA Magazine 490
Also in Origami - Arte del Piegare la Carta by Renzo Zanoni
and in other sources...

Folded by Lou Pearson
Wallet or clutch purse

Objects - Wallets

Michael G. LaFosse
82
Rectangle

From fabric, with sewing
Crane's egg modular box
Richard L. Alexander
88
Square
3 units
Tato

Objects - Wallets

Traditional
94
Octagon
Tulip bowl
Richard L. Alexander
110
Square