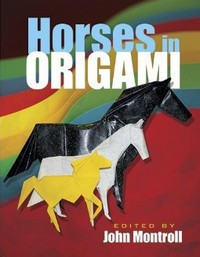 | | |
| --- | --- |
| Skill Level | Low-intermediate to complex |
| Clear diagrams? | Yes |
| Tinted diagrams (to show 2 sides of paper)? | Yes |
| Photos of completed models? | Yes |
| Is there indication to the model size resulting from size of starting paper? | No |
| Are the models "Pure" origami (From a single square - no cuts)? | Most are |
Overall Impression

I always love to see how different designers approach a common subject in origami. This book is a treat in this regard. John Montroll collected old and new horse designs from some of the top contemporary designers from all over the world, as well as including many of his own designs. Models vary from the more simple and stylized to the detailed and complex, and from the more rigid in appearance to the lively and flowing. Alongside horse designs, there are horse objects (rocking horse, stick horse etc.), and fantasy horses: Pegasus, unicorn and centaur.
The diagrams were all redrawn by Montroll for this book, to keep them all in his clear diagramming style. The book is in full color and there are photos for all designs.
Highly recommended for everyone!
There are 26 Origami Designs in Horses in Origami: