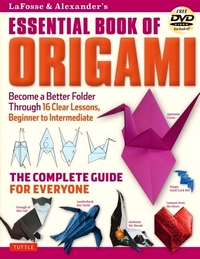 LaFosse and Alexander's Essential Book of Origami
Published:

2016 by Tuttle Publishing

Pages:

96

Binding:

Paperback with DVD

Language:

English

ISBN-13:

9784805312681

ISBN-10:

4805312688
Buy from: Amazon.com
Buy from: Amazon.jp
| | |
| --- | --- |
| Skill Level | Simple to complex |
| Clear diagrams? | Yes |
| Tinted diagrams (to show 2 sides of paper)? | Yes |
| Photos of completed models? | Yes |
| Is there indication to the model size resulting from size of starting paper? | No |
| Are the models "Pure" origami (From a single square - no cuts)? | Most are |
Overall Impression
As a book of model-diagrams, this book does not disappoint. It brings together a great collection of designs, many of which were new to me, with clear, easy to follow diagrams.
What makes this book worthy of the word "Essential" in its title, though, is what's between the folds. Over a quarter of the book is dedicated to articles exploring all facets of origami, from choosing and preparing folding materials, to tips on improving your folding skills, meeting other folders, and even exhibiting and selling your work. All with stories and the wisdom from the many years of LaFosse and Alexander's experience with their Origamido Studio.
Each design has an attached lesson on an aspect of folding, be it wet-folding, coloring your paper, approaches to design and more. All this information makes this book a fascinating read, rather than just a book of diagrams to fold from.
The book comes with a DVD containing video instructions to all projects in the book.
I'd recommend this book as truly essential to anyone beyond absolute beginners.
There are 16 Origami Designs in LaFosse and Alexander's Essential Book of Origami: