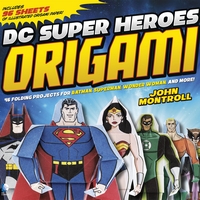 | | |
| --- | --- |
| Skill Level | Simple to high intermediate |
| Clear diagrams? | Yes |
| Tinted diagrams (to show 2 sides of paper)? | Yes |
| Photos of completed models? | Yes |
| Is there indication to the model size resulting from size of starting paper? | No |
| Are the models "Pure" origami (From a single square - no cuts)? | Yes |
Overall Impression
This book has a unique theme, covering many of the main players in the DC Universe. As a Batman fan, I was looking forward for this book to come out, and was not disappointed, as a quarter of the book is dedicated to the dark knight. Also heavily featured are Superman and Wonder Woman, with designs for some other members of the DC crew.
The designs include the characters themselves, some sidekicks and villains, symbols and accessories. A large portion of the book is the pre-printed papers that add the necessary features to the finished model, with some designs relying on the pre-printed papers more than others. This is most evident in the characters designs, which, for me, are the weakest because they would hardly be recognizable if folded from any other paper. Other designs, especially the color-changed heroes' symbols, are solid designs, and can be folded from any paper.
The book is in full-color throughout. And every design comes with an illustration from the comics, and a description of the character or item's place in the DC Universe.
Despite some of the models depending too much on the printed papers, there is still a lot there for me to highly recommend to all levels of folders, especially if you're a fan of any member of the DC's Justice League!
There are 46 Origami Designs in DC Super Heroes Origami: