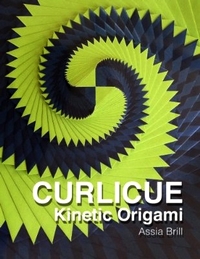 | | |
| --- | --- |
| Skill Level | Simple |
| Clear diagrams? | Yes |
| Tinted diagrams (to show 2 sides of paper)? | Yes |
| Photos of completed models? | Yes |
| Is there indication to the model size resulting from size of starting paper? | No |
| Are the models "Pure" origami (From a single square - no cuts)? | Uses strips of paper |
Overall Impression

What is a curlicue? Well, it's hard to explain, and you should see it in action(and even better, play with it) to appreciate the genius behind this design. So if you've never heard of the origami curlicue before, check out Sara Adams' excellent video and tutorial for the basic curlicue, a twisting paper toy that looks like magic, with kaleidoscopic qualities.
The book contains instructions to several types of curlicues, folded from either tapering strips or simple, parallel long strips of paper. The folding process is quick and simple, and several locking techniques are provided, as well as many tips for the hexagonal curlicues. The book ends with a couple of curlicue-based designs, and detailed instructions for cutting the strips needed.
The book is very well produced, with full-color throughout, gorgeous photos and high-quality diagrams. I believe this book is accessible to the complete beginner, or even someone who's not a folder at all, but is interested in making some fun paper toys.
There are 17 Origami Designs in Curlicue: Kinetic Origami: