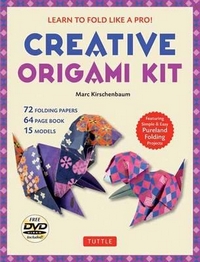 Creative Origami Kit
Published:

2016 by Tuttle Publishing

Pages:

64

Binding:

Paperback with DVD and paper

Language:

English

ISBN-13:

9780804845427

ISBN-10:

0804845425
Buy from: Amazon.com
Buy from: Amazon.jp
| | |
| --- | --- |
| Skill Level | Simple to intermediate |
| Clear diagrams? | Yes |
| Tinted diagrams (to show 2 sides of paper)? | Yes |
| Photos of completed models? | Yes |
| Is there indication to the model size resulting from size of starting paper? | No |
| Are the models "Pure" origami (From a single square - no cuts)? | Yes |
Overall Impression
Marc Kirschenbaum is known for his super-complex designs. This collection, however, features his much simpler, yet quite original, models. Many of the designs are "pureland", meaning they use only mountain and valley folds, hence quite approachable to beginners.
The models are fun to fold, many feature color changes, using both sides of the paper to great effect, and each comes with a crease pattern and a few notes about the design and folding tips.
The book comes with a nice DVD which includes video instructions to all models, and a pack of good quality origami paper to fold from.
There are 15 Origami Designs in Creative Origami Kit: