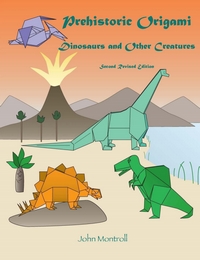 Prehistoric Origami - Second Revised Edition
Published:

2015 by Dover Publications

Pages:

120

Binding:

Paperback

Language:

English

ISBN-13:

9781517077488

ISBN-10:

1517077486
Buy from: Amazon.com
Buy from: Amazon.jp
| | |
| --- | --- |
| Skill Level | High-intermediate to complex |
| Clear diagrams? | Yes |
| Tinted diagrams (to show 2 sides of paper)? | Yes |
| Photos of completed models? | No |
| Is there indication to the model size resulting from size of starting paper? | No |
| Are the models "Pure" origami (From a single square - no cuts)? | Yes |
Overall Impression
Dinosaurs are a very popular subject in origami, and this is one of the best origami books in the subject, where the models are not too simple-looking, and yet are not too complex to fold.
With each model, comes its correct pronunciation, and details about the animal.
This new, second edition, contains all designs from the original Prehistoric Origami, with the addition of an extra design: the woolly mammoth. Some of the original diagrams have been redrawn for efficiency, and they are all in color.
Also see Montroll's Dinosaur Origami, which contains some of the same models and many new ones.
There are 24 Origami Designs in Prehistoric Origami - Second Revised Edition: