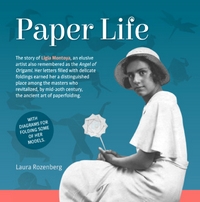 | | |
| --- | --- |
| Skill Level | Simple to intermediate |
| Clear diagrams? | Yes |
| Tinted diagrams (to show 2 sides of paper)? | Yes |
| Photos of completed models? | Yes |
| Is there indication to the model size resulting from size of starting paper? | No |
| Are the models "Pure" origami (From a single square - no cuts)? | Varies |
Overall Impression

More of a history of origami text than an actual instruction book, this book explores the life and times of one origami artists: Ligia Montoya from Argentina. However, this is not just the history of one person, as Montoya's story is the story of modern 20th century origami, and of the starting of creative origami's proliferation around the world.
Ligia Montoya was a reclusive artist, avoiding meeting her contemporary folders. However, she was involved in numerous correspondences with folders all over the world, and Laura Rozenberg, the author, has painstakingly researched Montoya's letters, in particular her correspondence with Gershon Legman, an influential player in the origami world.
The book, aimed at young adults, is beautifully edited, with many illustrations and photographs, as well as background historical information. Also included are several diagrams for folding Montoya's creations.
This book is a true gem, and a must read for anyone interested in the history of origami.
There are 13 Origami Designs in Paper Life: The Story of Ligia Montoya: