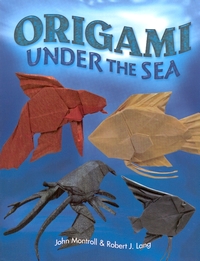 | | |
| --- | --- |
| Skill Level | From simple to complex |
| Clear diagrams? | Yes |
| Tinted diagrams (to show 2 sides of paper)? | Yes |
| Photos of completed models? | No |
| Is there indication to the model size resulting from size of starting paper? | No |
| Are the models "Pure" origami (From a single square - no cuts)? | Yes |
Overall Impression

This book is a re-issue, with many updates and differences, of the now out of print Origami Sea Life. 18 models have been cut from the original book, and 6 new ones added - 4 by Robert Lang, and 2 by John Montroll. Some of the older models do have some slight diagram updates.
Many of the models are quite challenging, but as some of the new additions are less difficult than the ones in "Sea Life", it is now more approachable to beginners.
The book also contains an interesting article about the development of sea life origami over the ages, and information about each sea critter.
There are 26 Origami Designs in Origami Under the Sea: