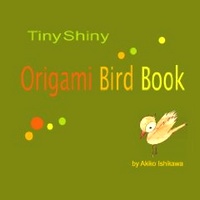 TinyShiny Origami Bird Book
Published:

2010 by TinyShiny

Pages:

60

Binding:

Paperback

Language:

English

ISBN-13:

9780986545504

ISBN-10:

0986545503
Buy from: Amazon.com
Buy from: Amazon.jp
| | |
| --- | --- |
| Skill Level | Simple |
| Clear diagrams? | Yes - hand drawn |
| Tinted diagrams (to show 2 sides of paper)? | Yes |
| Photos of completed models? | Yes |
| Is there indication to the model size resulting from size of starting paper? | No |
| Are the models "Pure" origami (From a single square - no cuts)? | Most are |
Overall Impression
This is a cute little book, containing Akiko Ishikawa's bird creations - and a bat. The model are simple to fold, the diagrams are delightful, hand drawn in full color, and a the end of the book are some notes and tips for assembling a "Senbazuru" - 1,000 cranes.
While the diagramming style strays somewhat from the Yoshizawa-Randlett diagramming conventions, especially regarding reverse-folds, the models are simple enough to figure out.
The book's best audience will be children and origami beginners.
There are 19 Origami Designs in TinyShiny Origami Bird Book: