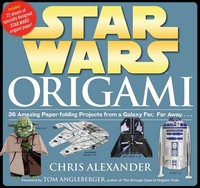 | | |
| --- | --- |
| Skill Level | From simple to complex |
| Clear diagrams? | Yes |
| Tinted diagrams (to show 2 sides of paper)? | Yes |
| Photos of completed models? | Yes |
| Is there indication to the model size resulting from size of starting paper? | No |
| Are the models "Pure" origami (From a single square - no cuts)? | Most are |
Overall Impression

If you're a Star Wars fan, and like origami, stop reading this review and go get the book. You will love it, as does Tom Angleberger, author of the "The Strange Case of Origami Yoda" series, who provided a nice forward for this book.
I belong to the Star Trek camp, but still find this book to be great. It does have its flaws, the biggest one, at least for me, is the special paper that comes in the end of the book, supposedly to make the models more realistic. I find it detracts from the designs, which, in most cases, do a good job of faithfully representing their subjects, and need no enhancements. The quality of the designs varies. Some require a little more imagination than others, but the richness of subjects and designs easily compensates for this.
So what you get is pretty much everything from the Star Wars lore. Characters, alien species, starships and weapons, including several lightsaber variations; they are all here. Some in detail and some abstract. The book is peppered throughout with Star Wars photos and Star Wars trivia, and each design is accompanied by a description of its place in the Star Wars mythology.
I'd recommend this book for intermediate folders, as I don't think the author's diagramming style will work well with beginners, but it can be a good "take it to the next level" book.
There are 36 Origami Designs in Star Wars Origami: