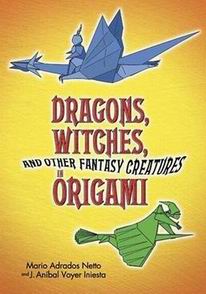 | | |
| --- | --- |
| Skill Level | Complex |
| Clear diagrams? | Clearer in the Spanish edition than in the English one |
| Tinted diagrams (to show 2 sides of paper)? | Yes |
| Photos of completed models? | Black and white photos of models |
| Is there indication to the model size resulting from size of starting paper? | No |
| Are the models "Pure" origami (From a single square - no cuts)? | Yes |
Overall Impression

This is an English translation of the book "Seres de Ficcion" published by Editorial Salvatella in 2000.
This book is one of the best. Definitely not for the beginner, it contains Mostly complex to extremely complex models, except for very few low intermediate ones at the beginning.The diagrams are computer-drawn - very clear and easy to follow, accompanied by Black-and-White photos, and there is a section on creating models at the end (which is, unfortunately for me, in Spanish).
The models are all on the theme of mythical beings (except for a wasp at the end,) and are all folded using one uncut square, but beware! Most of the models should be folded from tissue-foil, and on some of them it is absolutely impossible to use any other type of paper since they get pretty bulky. If you are a complex folder looking for challenges - you should absolutely get this book before it's too late.
Notes on the English edition of this book: The English Edition contains all the diagrams from the original book, all translated to English, including the explanatory notes about the characters. However, Dover chose to omit the text section about creation. This makes it quite odd to see diagrams for a wasp in a mythologically themed book. Also, the quality of the diagrams is not as good as in the original edition. They seem to be photocopied rather than printed, and good lighting should be used when following them.
There are 25 Origami Designs in Dragons, Witches and Other Fantasy Creatures in Origami (Seres de Ficcion):