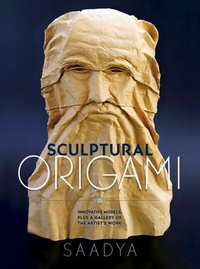 | | |
| --- | --- |
| Skill Level | From intermediate to complex |
| Clear diagrams? | Yes |
| Tinted diagrams (to show 2 sides of paper)? | Yes |
| Photos of completed models? | Yes |
| Is there indication to the model size resulting from size of starting paper? | No |
| Are the models "Pure" origami (From a single square - no cuts)? | Masks are from rectangles. The circular curves are from circles, one of which involves a cut |
Overall Impression
This book presents the art of Saadya Sternberg, who developed his own independent artistic approach to paper-folding, using paper as one would use clay to sculpt human faces, animals and intriguing geometric shapes.
In the book, Saadya discusses his masks, animals, and his explorations of curve-folding. The mask technique is taught in detail, starting with the tools and paper, and then elaborating on the different ways of getting the facial features and even adding a neck and shirt to the model for a complete bust.
Saadya's animals catch the essence of their subjects without going into excessive details, and involve fun and unique procedures. Note though, that this is not a beginner's book. The instructions assume some familiarity with folding intermediate designs.
The Curves section contains instructions and crease-patterns for tessellation-like designs, and for interesting circular experiments.
Apart from instructions, there's an extensive photo-gallery of Saadya's work, all in full-color (nice to see in a Dover book), and all models come with crease-patterns and with the artist's thoughts about the design process.
The enclosed DVD adds much more to the book. The videos include an introduction to Saadya, present in detail the various techniques used in creating masks, including full instructions for "Open Wide"; The author discusses further the curved circular models displayed in the book, and include full instructions for two extra animals - the sparrow and the monkey. The videos are shot "over the shoulder" making them easy to follow.
This is a book to enjoy!
There are 12 Origami Designs in Sculptural Origami: