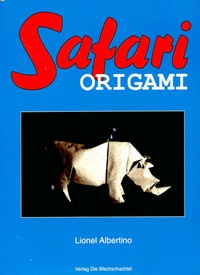 | | |
| --- | --- |
| Skill Level | From low intermediate to complex |
| Clear diagrams? | Yes |
| Tinted diagrams (to show 2 sides of paper)? | Yes |
| Photos of completed models? | No |
| Is there indication to the model size resulting from size of starting paper? | Yes |
| Are the models "Pure" origami (From a single square - no cuts)? | Yes, except for the trees |
Overall Impression

An excellent book! This is a collection of realistic animal models.
The best results for these models can be achieved by wet-folding. The Author recommends specific types of paper for each model. This is not a beginner's book, some experience is required.
The diagrams are clear, bi-colored, and for each model there is a recommendation for the type and color of paper to use, and the result model size for a given starting paper size.
Another feature is a table of relative size in real life between the featured animals.
There are 31 Origami Designs in Safari Origami:
Design
Designer
Page
Details
Photo

Show only designs with photos
Trees
Lionel Albertino
14
Square
Multiple units
Grass
Lionel Albertino
19
Square
Flamingo
Lionel Albertino
22
Square

Great - color changed legs

Folded by Nicolas Terry
Marabou stork
Lionel Albertino
24
Square

Very nice

Folded by Nicolas Terry
Ostrich
Lionel Albertino
27
Square

Very nice

Folded by Danielle Verbeeten
Kingfisher
Lionel Albertino
31
Square

Great
Hornbill
Lionel Albertino
35
Square

Excellent
Vulture
Lionel Albertino
38
Square

A good standing vulture
Gazelle
Lionel Albertino
42
Square

Very nice - color changed tail

Folded by Herman Mariano
Buffalo
Lionel Albertino
47
Square

Great

Folded by Nicolas Terry
Zebra
Lionel Albertino
50
Square

You have to paint your own stripes, but still very nice
Oryx
Lionel Albertino
54
Square

Very good

Folded by Nicolas Terry
Gerenuk
Lionel Albertino
59
Square

Also in Origami Journal (Russian) 22 2000 2

Very good

Folded by Fujikura Atsuo
Gnu
Lionel Albertino
63
Square

Excellent

Folded by Herman Mariano
Giraffe
Lionel Albertino
67
Square

Very nice

Folded by Herman Mariano
Tortoise
Lionel Albertino
71
Square

Excellent
Meerkat - Suricate

Mammals - Herpestidae - Meerkat and Mongoose

Lionel Albertino
76
Square

Very nice

Folded by Herman Mariano
Gerbil
Lionel Albertino
79
Square

Excellent
Wart Hog
Lionel Albertino
83
Square

Excellent

Folded by Nicolas Terry
Monkey
Lionel Albertino
88
Square

Excellent
Gorilla
Lionel Albertino
92
Square

Excellent
Hyena
Lionel Albertino
97
Square

Very good

Folded by Herman Mariano
Lycaon
Lionel Albertino
103
Square

Very good

Folded by Eyal Reuveni
Cheetah
Lionel Albertino
108
Square

Very good

Folded by Nicolas Terry
Lion
Lionel Albertino
115
Square

Excellent - with color-changed mane
Lioness
Lionel Albertino
122
Square

Very good
Lion cub
Lionel Albertino
125
Square

Nice
Crocodile
Lionel Albertino
129
Square

Very good
Rhinoceros
Lionel Albertino
133
Square

Also in BOS Convention 1998 Autumn

Excellent
Hippopotamus
Lionel Albertino
139
Square

Excellent
Elephant
Lionel Albertino
145
Square

Also in Quadrato Magico Magazine 50

Excellent

Folded by Herman Mariano