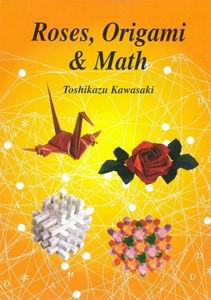 | | |
| --- | --- |
| Skill Level | From simple to complex |
| Clear diagrams? | Yes |
| Tinted diagrams (to show 2 sides of paper)? | Yes |
| Photos of completed models? | Only for some of the models |
| Is there indication to the model size resulting from size of starting paper? | No |
| Are the models "Pure" origami (From a single square - no cuts)? | Some are from rectangles |
Overall Impression
This is the long-awaited English translation of Kawasaki's 1998 book in Japanese. The lion's share of this book is dedicated to the the folding of simple units and the possibilities of constructions that can be made of them, may they be flowers, buildings, or intricate geometric shapes.
If you follow the instructions closely, you will be quite intimate with these units, as the text includes many puzzles that help you get to know their anatomy better.
A very nice feature is the "Mass production" sections, which show you how to quickly obtain many pre-folded units from large sheets of paper. These units are also taught in the book Origami Dream World but here they are used for more constructions.
The second part (after a coffee break, that teaches how to fold a coffee bean!) is
dedicated to Kawasaki's famous twist-fold, with instructions for two of his roses,
and also diagrams for two variations of leaves.
The third part is theoretical, and deals with several theorems connected to origami, that might help in figuring out crease patterns, as well as a thorough examination of the math embedded in the traditional origami crane. However, the somewhat clunky English translation, together with my un-mathematical mind, got in my way of fully enjoying this section.
There are 19 Origami Designs in Roses, Origami and Math: