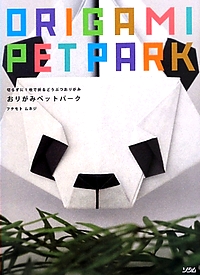 | | |
| --- | --- |
| Skill Level | High-intermediate |
| Clear diagrams? | Photo-diagrams, not always clear |
| Tinted diagrams (to show 2 sides of paper)? | Yes |
| Photos of completed models? | Yes |
| Is there indication to the model size resulting from size of starting paper? | No |
| Are the models "Pure" origami (From a single square - no cuts)? | Yes |
Overall Impression

Here's a book I'm conflicted about. I like the models - they're angular and whimsical, with interesting folding processes, nice color-changes and generally pleasing results. However, the diagramming system, using photos super-imposed with some folding lines, really isn't my favorite diagramming style. I find the diagrams demand much more guesswork, omit steps at times and use non-standard notations. I believe this will frustrate beginner and even more advanced folders. So can only recommend it to those willing to persevere, as the results really are worth it in my opinion.
Other than that, the production quality of the book is great. With beautiful photographs throughout, presenting the models as denizens of an actual park, complete with a map! Another amusing feature is little dog sweaters you can cut out to dress your dog models with?
So in summary, if you're willing to do some figuring-out and head-scratching, this can be a fun book!
There are 30 Origami Designs in Origami Pet Park: