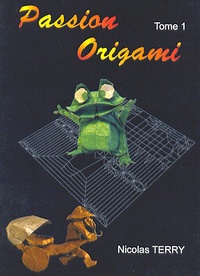 | | |
| --- | --- |
| Skill Level | From simple to complex |
| Clear diagrams? | Yes |
| Tinted diagrams (to show 2 sides of paper)? | Yes |
| Photos of completed models? | Yes |
| Is there indication to the model size resulting from size of starting paper? | Yes |
| Are the models "Pure" origami (From a single square - no cuts)? | Yes |
Overall Impression

Since Nicolas Terry appeared on the origami scene only a few years ago, he has made a great contribution to the art with his excellent website, featuring the work of many designers from around the world, and now with this intriguing book of his own original creations.
Terry's models have a unique style. While being quite complex, they are far from being "dry". They have a cartoonish quality, and are very expressive and fun. The book contains much more than diagrams. Each model comes with paper recommendations (as most of the models cannot really be folded out of plain origami paper), size ratio, even estimated folding time... Terry describes the creative process for each model, displays its crease-pattern, and offers challenges and general "thoughts behind the folds".
The book ends with a few crease-pattern challenges with some explanatory notes. A hidden feature in the book is a "secret code", which, once found and emailed to the author, grants access to a secret page on his website, containing exclusive diagrams and some more treats.
I would not recommend this book to beginners, as the majority of the models are complicated to fold, and require some sculptural abilities, but advanced folders will no-doubt benefit from the fresh ideas expressed here.
There are 27 Origami Designs in Passion Origami:
Design
Designer
Page
Details
Photo

Show only designs with photos
Duck (little miss duck)
Nicolas Terry
18
Square
Duck - Little big
Nicolas Terry
21
Square

Also in AEP convention 2003
Also in BOS Convention 2003 Spring
Also in Le Pli 98
Also in Origami Deutschland 2003
Also in Orison 21/04

Folded by Nicolas Terry
Snail
Nicolas Terry
24
Square

Also in BOS Convention 2004 Spring

Folded by Nicolas Terry
Monk ghost
Nicolas Terry
27
Square

Also in Le Pli 92
Also in Origami Deutschland 2003
Also in Pajarita Magazine 84
Also in The Paper Magazine 83

Folded by Nicolas Terry
Rabbit puppet
Nicolas Terry
30
Square

Also in Le Pli 97

Folded by Stephane Gerard
Fox
Nicolas Terry
35
Square
Dragonfly
Nicolas Terry
39
Square
Monkey
Nicolas Terry
43
Square

Folded by Nicolas Terry
Gorilla
Nicolas Terry
48
Square

Folded by Pascal Durrens
Puppy
Nicolas Terry
49
Square

Also in Der Falter 43
Snail on a leaf
Nicolas Terry
54
Square

Also in AEP convention 2005

Folded by Pascal Durrens
Monk with a stick
Nicolas Terry
59
Square

Also in Origami USA Convention 2004
Also in Tanteidan 9th convention

Folded by Nicolas Terry
Bear
Nicolas Terry
63
Square

Also in BOS Convention 2003 Autumn
Also in Quadrato Magico Magazine 79-080

Folded by Herman Mariano
Pharaoh Ramses II
Nicolas Terry
70
Square

Also in BOS Convention 2005 Spring - Nottingham
Also in Pajarita Magazine 89

Folded by Nicolas Terry
Three Wise Monkeys
Nicolas Terry
82
Square

Also in AEP convention 2004
Also in BOS Convention 2004 Autumn

Folded by Gabriel Vong
Rhinoceros
Nicolas Terry
92
Square

Folded by Herman Mariano
Rhinoceros - baby
Nicolas Terry
101
Square
Lion
Nicolas Terry
103
Square

Folded by Herman Mariano
Lioness
Nicolas Terry
115
Square

Folded by Nicolas Terry
Extinct bird

Birds

Nicolas Terry
124
Square

Also in BOS Convention 2008 Spring

Folded by Nicolas Terry
Rickshaw
Nicolas Terry
133
Square
Frog - cartoon
Nicolas Terry
143
Square
Winged warrior
Nicolas Terry
153
Square

Folded by Nicolas Terry
Leafy stick
Nicolas Terry
165
Square

Crease pattern

Folded by Nicolas Terry
Primitive
Nicolas Terry
165
Square

Crease pattern

Folded by Nicolas Terry
Monkey with a stick
Nicolas Terry
166
Square

Crease pattern
Troll
Nicolas Terry
167
Square

Crease pattern

Folded by Nicolas Terry