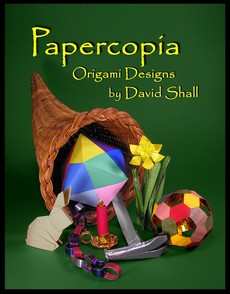 Papercopia
Published:

2007

Pages:

114

Binding:

Hardcover

Language:

English

ISBN-13:

9780979648700

ISBN-10:

097964870X
Buy from: Amazon.com
Buy from: Amazon.jp
| | |
| --- | --- |
| Skill Level | From simple to complex |
| Clear diagrams? | Yes - hand drawn |
| Tinted diagrams (to show 2 sides of paper)? | On some of the models |
| Photos of completed models? | Excellent photos |
| Is there indication to the model size resulting from size of starting paper? | Yes |
| Are the models "Pure" origami (From a single square - no cuts)? | Some are from rectangles |
Overall Impression
David Shall has been known for his highly original designs for decades (the earliest model in this book was designed in 1961), but has only now come out with his own book. This is great news, as the diagrams he has published so far appeared mostly in hard-to-find publications, such as old Origami-USA convention books and newsletters.
This book is a showcase of Shall's work, spanning over a period of more than 30 years, with models ranging in theme, complexity and technique. Animals, objects, decorations and modular shapes can all be found here, squares, rectangles and multiple units are used.
Production quality of the book is very high (edited by deg farrelly), despite it being self-published. The diagrams, while hand-drawn and concise at times, are still quite clear.
Other than model, the reader is also treated to David Shall's memories of his personal origami path, his thoughts about design and diagramming, folding tips, and a detailed introduction to symbols.
But wait, there's more: When you buy the book directly from the author at Papercopia.com, you will receive an extra diagram - for a heart-stickpin.
There are 21 Origami Designs in Papercopia:
Design
Designer
Page
Details
Photo

Show only designs with photos
Puzzle cube
David Shall
21
Square
12 units

The assembly is the puzzle

Folded by David Shall
Paper chain
David Shall
25
Rectangle - 1X4
Multiple units

Also in Origami USA Convention 1983

Units folded from quarters of a square

Folded by David Shall
Wristwatch
David Shall
27
Square

Also in BOS Convention 1980 Autumn
Also in Origami USA Convention 1981
Letterfold
David Shall
29
Rectangle

Folded by David Shall
Mouse
David Shall
30
Square
Rowboat
David Shall
33
Square

Also in Origami USA Convention 1981

Nice and sturdy, with excellent locks

Folded by David Shall
Coin purse

Objects - Wallets

David Shall
36
Square
2 units

Also in Fun Origami World by Makoto Yamaguchi

Folded by David Shall
Seamless box and lid
David Shall
39
Rectangle
2 units

Also in BOS Convention 1988 Autumn
Also in Origami USA Convention 1987

Folded by David Shall
Friends' logo
David Shall
42
Rectangle - 1X4

Also in Origami USA Convention 1986

This is the logo of "The Friends of the Origami Center of America"

Folded by David Shall
Crane stick pin
David Shall
47
Square

Also in The Paper Magazine 33

Crane-on-a-stick...

Folded by David Shall
Cross-shaped dish
David Shall
52
Square

A very appealing shape
Basket
David Shall
55
Rectangle - 1X3

Also in BOS Convention 1987 Spring
Also in The Origamian - Vol.16 1

Folded by David Shall
Rabbit
David Shall
58
Square

Also in Quadrato Magico Magazine 108
Expanding ball
David Shall
63
Square
8 units

Also in Origami USA Convention 1984

Folded by David Shall
Triangular solid
David Shall
66
Square

Folds flat, until inflated in the last step
Lily
David Shall
69
Square

Also in Origami Master Class: Flowers

Folded by David Shall
120 deg module series
David Shall
73
Rectangle - 1X2
Multiple units

Also in Origami USA Convention 1982
Also in BOS Convention 1982 Autumn

A system for creating many modular shapes

Folded by David Shall
Crane on a stand
David Shall
78
$ US Dollar Bill
Candlestick
David Shall
84
Rectangle - 1X3
Claw hammer
David Shall
92
Rectangle - 1X3

Also in Origami USA Convention 1988
Daffodil
David Shall
101
Square
2 units

Folded by David Shall