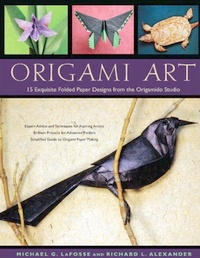 | | |
| --- | --- |
| Skill Level | From intermediate to complex |
| Clear diagrams? | Yes |
| Tinted diagrams (to show 2 sides of paper)? | Yes |
| Photos of completed models? | Beautiful photos |
| Is there indication to the model size resulting from size of starting paper? | No, but starting size is suggested |
| Are the models "Pure" origami (From a single square - no cuts)? | Most are |
Overall Impression

Similar in layout to Michael LaFosse's previous book: Advanced Origami, this book presents 15 more of LaFosse's masterpieces with full diagrams. From a somewhat abstracted American lobster to a hyper-realistic American Alligator, all with design notes and paper recommendations.
Each model requires more than the diagrams alone to get close to LaFosse's art. The last step of the diagrams is just a starting point for shaping and exploring.
As with Advanced Origami, diagrams are only a part of this book. As this is an origami artist's reference, there are articles on many aspects of the art, including a discussion of paper choices, paper-making, folding methods, wet-folding, back-coating, using Metyhl Cellulose in folding, display tips, and more fascinating secrets from LaFosse and Alexander's experience. It even includes tips for going professional with origami. Although there is some overlap with Advanced Origami, most of the information is new.
As this book sums-up 20 years of Origamido studio in MA, it includes the detailed history of the studio as well as the story of LaFosse's development as an origami artist.
This is a fantastic book for advanced folders.
There are 15 Origami Designs in Origami Art: