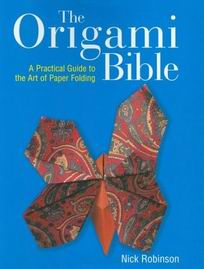 | | |
| --- | --- |
| Skill Level | From simple to complex |
| Clear diagrams? | Yes |
| Tinted diagrams (to show 2 sides of paper)? | Yes |
| Photos of completed models? | Yes |
| Is there indication to the model size resulting from size of starting paper? | No |
| Are the models "Pure" origami (From a single square - no cuts)? | Some are from non-square shapes |
Overall Impression
Nick Robinson is known for his simple, yet extremely clever designs. This book features many of these models, as well as a few contributions from others. While the name "Bible" is a bit of a stretch, the book still has a long "Short History of Origami" article by David Lister, a very comprehensive section introducing the basic folds and techniques, and presents the folder to the various genres of origami with examples of practical, representational and abstract creations. The folder is also introduced to the wet folding technique, with instructions accompanied by step-photos for the 3D steps.
Another feature I like about this book are the "Cheat sheets", included as fold-outs flaps on the front and back covers. These sheets are a quick reference to all symbols and bases used.
A minor problem I have with the layout is the separation of drawn diagrams from the explanatory text, displayed on a facing page. Other than that, the layout is beautiful, with every model coming with a full color picture, the author's notes about the design, and "creative challenges" stimulating the folder to solve design puzzles.
The book ends with a small gallery of models from international creators.
There are 34 Origami Designs in The Origami Bible:
Design
Designer
Page
Details
Photo

Show only designs with photos
Octagoal crown
Nick Robinson
42
Square
4 units
Square
Nick Robinson
44
Rectangle - A size
4 units

a 45-90 degrees triangle from a rectangle
A4 star
Various
46
Rectangle - A size
Multiform fish
Various
49
Square

Nice and simple
Horse head (a)
David Brill
50
Square

Simple
Tree
Nick Robinson
52
Square

Nice color-change
Silver half-cube
Nick Robinson
54
Rectangle - A size
Tadpole
Nick Robinson
58
Square
Sheep
Nick Robinson
60
Square

Somewhat abstract. Very nice
Bear climbing a tree
Nick Robinson
62
Square
3 units

Also in BOS Magazine 212
Also in Origami Journal (Russian) 30/31 2002 2/3
Also in Quadrato Magico Magazine 71
Also in Tanteidan 11th convention

Very clever
Mountains
Nick Robinson
64
Square

Also in BOS Convention 2003 Spring
Also in Origami in England by Sergei Afonkin

2 variations
Locked glider
Nick Robinson
67
Rectangle - A size
Butterfly
Nick Robinson
70
Rectangle - A size

Also in BOS Convention 2003 Autumn
Also in BOS Magazine 141
Also in CDO convention 1990
Also in Origami USA Convention 1989
Also in The Best of Annual Collections 1981-1995
Popcorn or Chip bag
Nick Robinson
76
Square

Simple
Wallet

Objects - Wallets

Nick Robinson
78
Square
Daisy's envelope
Nick Robinson
80
Rectangle - A size
Paulo's dish
Nick Robinson
82
Square
CD cover
Nick Robinson
84
Rectangle - A size

Very useful
Container
Nick Robinson
86
Square

Also in Origami Kit for Dummies by Nick Robinson

Folded by Lou Pearson
Star dish
Francis Ow
88
Hexagon
Gone fishing
Nick Robinson
92
Square

A hunting scene expressed with paper
Escher fish tessellation
Nick Robinson
94
Square
Kite
Nick Robinson
96
Square
A4 rhombic unit
Nick Robinson
99
Rectangle - A size
12 units

Also in NOA Magazine 491
Also in Tanteidan 11th convention
Also in CDO convention 1988
Also in Le Pli 65

Folded by Nick Robinson
Flower form
Nick Robinson
102
Square

Simple
Arrow tessellation
Nick Robinson
104
Square

Also in CDO convention 2003
Also in Der Falter 36
Also in Nick Robinson's Beginning Origami Kit by Nick Robinson

Folded by Nick Robinson
Elephant head
Nick Robinson
108
Square

Simple
Baby bird
Nick Robinson
112
Square

Also in Tanteidan 11th convention
Horse head (b)
David Brill
114
Square

Also in BOS Convention 1997 Autumn
Also in Dave Brill - Selected Models 1997-2004 by David Brill

Folded by Herman Mariano
Toad
Nick Robinson
116
Square

Also in CDO convention 1996
Also in Le Pli 96
Also in Origami Journal (Russian) 7 1997 May-Jun

Folded by Nick Robinson
Concorde
Nick Robinson
120
Square
Mushroom
Nick Robinson
123
Rectangle - A size
Green man
Nick Robinson
126
Square

Also in BOS Convention 1991 Autumn
Also in CDO convention 1994
Also in Pajarita Magazine 36
Also in Quadrato Magico Magazine 71

Folded by Herman Mariano
Skeletal dodecahedron
Robert Neale
132
Square
30 units