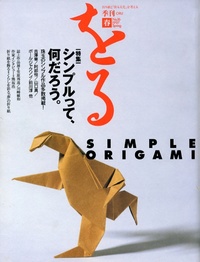 ORU Magazine 16
Published:

1997 by Sojusha

Pages:

152

Binding:

Paperback

Language:

Japanese
| | |
| --- | --- |
| Skill Level | Simple to complex |
| Clear diagrams? | Yes |
| Tinted diagrams (to show 2 sides of paper)? | Yes |
| Photos of completed models? | Yes |
| Is there indication to the model size resulting from size of starting paper? | No |
| Are the models "Pure" origami (From a single square - no cuts)? | Varies |
Overall Impression
ORU are a set of 16 large-format commercial magazines published between 1993-1997. They all contain many articles about design, designers and tehniques, alongside beautiful photos, with many diagrams in the back.
Articles
Simple origami creations by various creators
Kunihiko Kasahara's work
Photographs of Toshikazu Kawasaki's crystals
Hiroshi Kumasaka's work
Tomoko Fuse's quilts
Book binding
Shinji Sasade's work
Origami depicted on worldwide postage stamps
Traditional models
More that I can't figure out?
There are 33 Origami Designs in ORU Magazine 16: