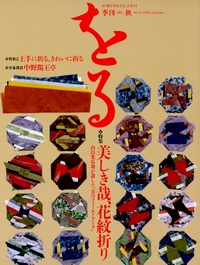 ORU Magazine 6
Published:

1994 by Sojusha

Pages:

160

Binding:

Paperback

Language:

Japanese
| | |
| --- | --- |
| Skill Level | Simple to complex |
| Clear diagrams? | Yes |
| Tinted diagrams (to show 2 sides of paper)? | Yes |
| Photos of completed models? | Yes |
| Is there indication to the model size resulting from size of starting paper? | No |
| Are the models "Pure" origami (From a single square - no cuts)? | Varies |
Overall Impression
ORU are a set of 16 large-format commercial magazines published between 1993-1997. They all contain many articles about design, designers and tehniques, alongside beautiful photos, with many diagrams in the back.
Articles
Tato folds - a long article with plenty of photos
Dokuhtei Nakano's work
Jeff Beynon's work
"Beauty of Convolution" Azuma Hideaki's spirals. His website is here
Marc Kirschenbaum's musicians, with a nice section comparing his work to Hojyo Takashi's musicians
A visit to a box factory
Photographic explanation of various folding procedures for beginners
An article about folding accurately using tools (?)
Issei Yoshino folding his Salmon from a gigantic square
Some photos from OUSA convention
The art of Japanese lanterns
Tessellation
Makoto Yamaguchi and John Montroll folding a fish skeleton and a horse from metallic sheets
"Folded" clothes (pleated dresses etc.)
Making "Flower pattern Folding"
More that I can't figure out?
There are 17 Origami Designs in ORU Magazine 6: