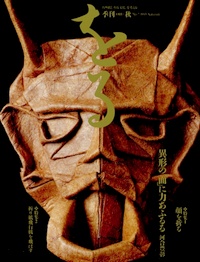 ORU Magazine 2
Published:

1993 by Sojusha

Pages:

160

Binding:

Paperback

Language:

Japanese
| | |
| --- | --- |
| Skill Level | Simple to complex |
| Clear diagrams? | Yes |
| Tinted diagrams (to show 2 sides of paper)? | Yes |
| Photos of completed models? | Yes |
| Is there indication to the model size resulting from size of starting paper? | No |
| Are the models "Pure" origami (From a single square - no cuts)? | Varies |
Overall Impression
ORU are a set of 16 large-format commercial magazines published between 1993-1997. They all contain many articles about design, designers and tehniques, alongside beautiful photos, with many diagrams in the back.
Articles
"Folding Faces" - featuring the works of Toyoaki Kawai, Momotani, Fuse, Kenneway and more.
Seiji Nishikawa visits a paper factory
Nick Robinson's work
Jun Maekawa's work - with crease patterns
Folding from leather
Ichiro Kinoshita's work
"Fly a paper plane" Prof. Akira Azuma, doctor of engineering, discusses paper planes
Otani Tooru's work
Toshio Chino
History of book folding - "Orihon"
Interview with Toshie Takahama
Using patterned paper in origami
Crane variations
Variations of a traditional boat
Decorations for Tanabata festival
Cut-out paper figures
More that I can't figure out?
There are 36 Origami Designs in ORU Magazine 2:
Design
Designer
Page
Details
Photo

Show only designs with photos
Wallet

Objects - Wallets

Makoto Yamaguchi
36
Square
Planes
Traditional
42
Rectangle - A size

4 variations
Concours Aerien
Momotani Eiki
44
Square
Jet plane
Makoto Yamaguchi
45
Square
Gliding crane
Fushimi Koji
46
Square
Glider
Kunihiko Kasahara
48
Square
Hang glider
Makoto Yamaguchi
48
Square
Tube glider
Traditional
50
Square
With cuts
Glider
Traditional
51
Rectangle - A size
With cuts
ZAG rider
Traditional
51
Rectangle - 1X2
Maple Samara I
Traditional
52
Square
Spinner
Traditional
52
Rectangle
Spinning ring
Traditional
52
Rectangle
Buddha
Kunihiko Kasahara
90
Square
Lizard
Jun Maekawa
103
Square

Crease-pattern
F128D AH-MCA
Kominami Hiroshi
123
Rectangle - A size
Clown - Pierrot
Seiji Nishikawa
127
Square
2 units

Also in Origami USA Convention 1992
Also in The Beauty of Origami by Makoto Yamaguchi
Also in The Best of Annual Collections 1981-1995
Also in Works of Seiji Nishikawa by Seiji Nishikawa
Also in BOS Convention 1992 Autumn
Also in NOA Magazine 122
Albert Schweitzer
Eric Kenneway
129
Square

Also in BOS Convention 2010
Also in Folding Faces by Eric Kenneway
Also in Fun Origami World by Makoto Yamaguchi
Also in Neal Elias - Faces and Busts by Dave Venables
Also in NOA Magazine 90
Also in Origami - Magic Square by Sergei Afonkin
Also in Origami in England by Sergei Afonkin
and in other sources...
Adolf Hitler
Eric Kenneway
131
Rectangle - 1X2

Also in Folding Faces by Eric Kenneway
Also in The Origami World of Neal Elias by Dave Venables and Marc Cooman

Folded by Rui Roda
Two-face
Kawai Toyoaki
134
Square
Venice memorial
Kawai Toyoaki
135
Square
Parisian officer
Makoto Yamaguchi
137
Square
Dragonfly
Makoto Yamaguchi
138
Square
Fox baby
Makoto Yamaguchi
140
Square
Fox
Makoto Yamaguchi
141
Square
2 units
Parlor table
Ichiro Kinoshita
143
Square
Camel
Fumiaki Kawahata
145
Square
Rude devil
Nick Robinson
146
Square

Cute action model
Owl
Kunihiko Kasahara
148
Square
Squirrel
Kunihiko Kasahara
149
Square
2 units
Raccoon dog
Kosho Uchiyama
150
Square
Fox - laughing
Otani Tooru
152
Square
Moon lantern
Tomoko Tanaka
154
Rectangle
Autumn leaves - star shaped
Tomoko Tanaka
155
Hexagon
Snail
Toshio Chino
156
Square
Dancers
Toshie Takahama
157
Square
With cuts