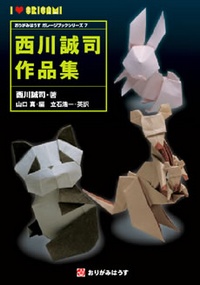 | | |
| --- | --- |
| Skill Level | High intermediate to complex |
| Clear diagrams? | Very clear |
| Tinted diagrams (to show 2 sides of paper)? | Yes |
| Photos of completed models? | Yes |
| Is there indication to the model size resulting from size of starting paper? | No |
| Are the models "Pure" origami (From a single square - no cuts)? | Some are multi-piece, one model is from a rectangle |
Overall Impression

I've always liked Seiji Nishikawa's work. His models are unique - capturing the spirit of his subjects, even without being physically identical to their real world counterpart.
Finally, a compilation of the best of his designs has been put together. While many of the models have already been published elsewhere, most of those publications are unobtainable now days, and the diagrams in this book are redrawn for clarity.
The book is divided to 4 sections: Fantasy, Animals, The Universe & Masks, and for each model Nishikawa adds a few comments about the design.
A new and welcomed addition to Origami House publications, is that all text in the book, including comments and diagram text, is given in both English and Japanese.
There are 31 Origami Designs in Works of Seiji Nishikawa: