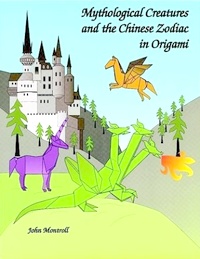 | | |
| --- | --- |
| Skill Level | From intermediate to complex |
| Clear diagrams? | Yes |
| Tinted diagrams (to show 2 sides of paper)? | Yes |
| Photos of completed models? | No |
| Is there indication to the model size resulting from size of starting paper? | No |
| Are the models "Pure" origami (From a single square - no cuts)? | Yes |
Overall Impression

One of my favorite Montroll books, this book contains models based on one of the favorite amongst origami folders: mythological creatures.
Along with the more "common" mythological beings, like the dragon and sea-serpent, there are also more "exotic" subjects, such as the chimera, Cerberus, and a 3 headed dragon! With every one comes a description about the creature.
Also included, are 11 "real life" animals (plus a Chinese Dragon) representing the 12 years of the Chinese Zodiac. For every one of those models, full information about the beliefs associated with those born in the year of this animal are noted, as well as the Chinese and Japanese writing and pronunciation of the animal's name.
This book has more complex models than in most of Montroll's books, so I wouldn't recommend it for beginners.
There are 26 Origami Designs in Mythological Creatures and the Chinese Zodiac in Origami: