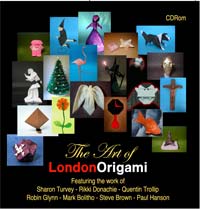 The Art of London Origami
Published:

2007 by LondonOrigami

Binding:

CD-ROM

Language:

English
| | |
| --- | --- |
| Skill Level | From simple to complex |
| Clear diagrams? | Yes |
| Tinted diagrams (to show 2 sides of paper)? | Varies |
| Photos of completed models? | For most models |
| Is there indication to the model size resulting from size of starting paper? | Only for some of the models |
| Are the models "Pure" origami (From a single square - no cuts)? | Most are |
Overall Impression
This is a collection of over 70 models from seven members of the London Origami group. It comes as a CD-ROM, containing an attractive interactive Flash-based menu system showcasing each artist's work, along with biographical details. Each model is accompanied by the artist's thoughts about its design process. You can even listen to original music composed and performed by Robin Glynn while browsing the menus.
The diagrams can be accessed through the menus, or picked from the CD's folders in PDF format.
While many of the models may be available elsewhere, there is still a wealth of material exclusive to this CD.
Buy from: LondonOrigami
There are 75 Origami Designs in The Art of London Origami:
Design
Designer
Page
Details
Photo

Show only designs with photos
Angel
Sharon Turvey
Square

A napkin-fold

Folded by Sharon Turvey
Badger
Robin Glynn
Square
Bird - flying

Birds

Mark Bolitho
Square

Folded by Mark Bolitho
Black belt
Robin Glynn
Square

Also in BOS Convention 1996 Spring
Also in BOS Magazine 202

Folded by Robin Glynn
Border collie
Quentin Trollip
Square

Also in Origami Sequence by Quentin Trollip

Folded by Quentin Trollip
Box lid
Steve Brown
Square

Folded by Malachi Brown
Box with collared neck
Steve Brown
Square
Box with trimmed lid
Steve Brown
Square

Folded by Malachi Brown
Butterfly box
Steve Brown
Square
Cannon
Robin Glynn
Square

Also in BOS Magazine 196
Also in Orison 17/04

Folded by Robin Glynn
Cat
Robin Glynn
Square

Also in Personal Collection

Folded by Robin Glynn
Chimpanzee mask
Quentin Trollip
Square
Christmas tree
Sharon Turvey
Square
Multiple units

Origami tree units assembled on a paper-craft base

Folded by Sharon Turvey
Container
Mark Bolitho
Square

Also in BOS Convention 1997 Autumn
Also in More Origami Projects by Mark Bolitho
Also in Origami USA Convention 1996
Also in Origami Deutschland 2015

With a clever pop-up move

Folded by Mark Bolitho
Crane with stand
Rikki Donachie
Rectangle
With cuts

Folded by Rikki Donachie
Crucifix
Quentin Trollip
Square

Also in Origami Sequence by Quentin Trollip
Also in Quentin Trollip - Selected works by Quentin Trollip

Folded by Quentin Trollip
Cupid
Paul Hanson
Square

Folded by Paul Hanson
Danger fish
Steve Brown
Square

A pleated fish-form
Danger fish II
Steve Brown
Square

A pleated fish-form
Demon head
Paul Hanson
Square

Folded by Paul Hanson
Dog
Robin Glynn
Square

Folded by Robin Glynn
Dracula
Robin Glynn
Square

Folded by Robin Glynn
Dracula - simple
Robin Glynn
Square

Also in Origami Kit for Dummies by Nick Robinson

Folded by Robin Glynn
Eiffel tower
Robin Glynn
Square

Also in BOS Magazine 201
Eye
Paul Hanson
Square

Folded by Paul Hanson
EYHOL fish
Rikki Donachie
Square

Also in Korea Origami Convention 2006

Folded by Rikki Donachie
Flamingo
Quentin Trollip
Square

Folded by Quentin Trollip
Flipper
Robin Glynn
Rectangle
4 units

Also in BOS Magazine 186
Also in Orison 20/02

Folded by Robin Glynn
Flower
Quentin Trollip
Square

Also in Quentin Trollip - Selected works by Quentin Trollip

Folded by Quentin Trollip
Frog
Rikki Donachie
Rectangle - A size
3 units
Frog prince
Robin Glynn
Square

Also in BOS Convention 2000 Spring
Ghost
Quentin Trollip
Square

Folded by Quentin Trollip
Ghost
Robin Glynn
Square
Gift box
Robin Glynn
Square

Also in BOS Magazine 229
Also in Picture-Perfect Origami by Nick Robinson

Folded by Robin Glynn
Glynn's glider
Robin Glynn
Rectangle - A size

Also in Advanced Championship Paper Planes by Paul Jackson

This model is not on the CD's menu, but the file is on the CD

Folded by Robin Glynn
Goose in flight
Mark Bolitho
Square

Also in BOS Magazine 106
Also in The Paper Magazine 30
Also in NOA Magazine 414
Also in Origami Deutschland 2015
Also in Origami Projects - Revised Edition by Mark Bolitho
Also in BOS Convention 1992 Autumn
Also in Origami (Bolitho) by Mark Bolitho
and in other sources...

With flapping action

Folded by Mark Bolitho
Grim Reaper
Robin Glynn
Square
Heart box
Robin Glynn
Rectangle
2 units

Folded by Robin Glynn
Hooded lady
Paul Hanson
Square

Folded by Paul Hanson
Hug me heart
Rikki Donachie
Rectangle
3 units

A heart with arms and legs

Folded by Rikki Donachie
Kayak
Robin Glynn
Square

Folded by Robin Glynn
Kermit the frog
Robin Glynn
Square

Folded by Robin Glynn
Knight
Paul Hanson
Square

Also in BOS Magazine 245

Folded by Paul Hanson
Lips
Paul Hanson
Square

Folded by Paul Hanson
Mage
Paul Hanson
Rectangle - 1X2

Folded by Paul Hanson
Mandroid 1001001
Robin Glynn
Square

Also in BOS Magazine 210

Folded by Robin Glynn
Monkey
Robin Glynn
Square

Folded by Robin Glynn
Monkey mask
Robin Glynn
Square
Mouse
Rikki Donachie
Square

Also in BOS Convention 2005 Spring - Nottingham

Folded by Rikki Donachie
Muji special
Robin Glynn
Square

A toy-plane. This model is not on the CD's menu, but the file is on the CD
Nose
Paul Hanson
Square

Folded by Paul Hanson
Open hearted box
Steve Brown
Square

Folded by Malachi Brown
Penguin
Robin Glynn
Square

Folded by Robin Glynn
Piggy
Robin Glynn
Square

Also in Personal Collection

This model is not on the CD's menu, but the file is on the CD

Folded by Robin Glynn
Rabbit vase 1
Steve Brown
Square

A vase surrounded by rabbit-heads
Rabbit vase II
Steve Brown
Square

A vase surrounded by rabbit-heads
Sheep
Quentin Trollip
Square
Skateboard
Quentin Trollip
Square

Also in Quentin Trollip - Selected works by Quentin Trollip
Sorceress
Paul Hanson
Square

Folded by Paul Hanson
Spider
Robin Glynn
Rectangle - 1X4

Folded by Robin Glynn
Star box
Robin Glynn
Square
12 units

Also in BOS Convention 1997 Autumn

Lid and box each from 6 squares

Folded by Robin Glynn
Submarine
Paul Hanson
Square

Folded by Paul Hanson
Submarine
Robin Glynn
Square

Also in BOS Convention 2001 Autumn

Folded by Robin Glynn
Tae Kwon Do master
Paul Hanson
Square

Folded by Paul Hanson
Talking mouth
Robin Glynn
Square

Folded by Robin Glynn
Teddy bear
Robin Glynn
Square

Also in BOS Convention 1995 Autumn

Folded by Robin Glynn
Teeth
Robin Glynn
Square

Folded by Robin Glynn
Tick-tock clock
Robin Glynn
Square

Also in Orison 19/06

With a ticking action

Folded by Robin Glynn
Tiger shark
Quentin Trollip
Square

Folded by Quentin Trollip
Tommy gun
Robin Glynn
Square

Folded by Robin Glynn
Treasure chest
Robin Glynn
Square

Also in BOS Convention 1998 Spring

Folded by Robin Glynn
Witch
Quentin Trollip
Square
Wizard
Paul Hanson
Square

Also in BOS Magazine 222

Folded by Paul Hanson
Yacht
Mark Bolitho
Square

Also in BOS Convention 1997 Spring
Also in BOS Magazine 208
Also in Crease Lightning by Mark Bolitho
Also in Origami (Bolitho) by Mark Bolitho
Also in Orison 21/03

Folded by Mark Bolitho
Yacht
Robin Glynn
Square

Folded by Robin Glynn