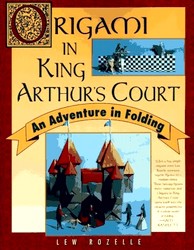 | | |
| --- | --- |
| Skill Level | Simple to intermediate |
| Clear diagrams? | Yes |
| Tinted diagrams (to show 2 sides of paper)? | Yes |
| Photos of completed models? | Yes |
| Is there indication to the model size resulting from size of starting paper? | Suggested proportions for the units |
| Are the models "Pure" origami (From a single square - no cuts)? | No |
Overall Impression
The models in this book revolve around the theme of castles and those who live in them. While the castles themselves look nice, I don't like the appearance of the other humans and animals.
In the end of the book there are some suggestions for characters and scenes composed form the units taught.
They are made of too many units for my taste, with a result that does not justify that. So if you're into building castles from plenty of various units, you should buy this book. If you're more interested in monsters and mages, you should try a different book.
There are 26 Origami Designs in Origami in King Arthur's Court:
Design
Designer
Page
Details
Photo

Show only designs with photos
Castle building blocks
Lew Rozelle
11
Square
Multiple units

Instructions for the various modules used for the castles

Folded by Paula Versnick
Knight base

Origami bases and methods

Lew Rozelle
37
Square
Knight
Lew Rozelle
38
Square
2 units
Sword
Lew Rozelle
41
Square
Shield
Lew Rozelle
42
Square
Lance and Standard
Lew Rozelle
43
Square

A rolled tube
Horse
Lew Rozelle
47
Square
2 units
Horse accessories
Lew Rozelle
51
Square

Several horse accessories and mounting a knight
Maiden fair
Lew Rozelle
60
Square
3 units
Tent
Lew Rozelle
62
Square
2 units
Merlin
Lew Rozelle
72
Square
5 units
Sorceress
Lew Rozelle
73
Square
3 units
Dragon
Lew Rozelle
79
Square
4 units
Merlin's tower Castle
Lew Rozelle
87
Square
Multiple units

Folded by Paula Versnick
Camelot Castle
Lew Rozelle
96
Square
Multiple units

Folded by Paula Versnick
Sword
Lew Rozelle
107
Square
Round table
Lew Rozelle
121
Square
2 units
Chair
Lew Rozelle
125
Square
2 units
Throne
Lew Rozelle
128
Square
2 units
Falcon
Lew Rozelle
133
Square
Hart
Lew Rozelle
135
Square
2 units
With cuts
Hound
Lew Rozelle
140
Square
2 units
With cuts
Longbow
Lew Rozelle
146
Square
Crossbow
Lew Rozelle
147
Square
Handcart
Lew Rozelle
149
Square
4 units
The enchanted castle
Lew Rozelle
156
Square
Multiple units

Folded by Paula Versnick