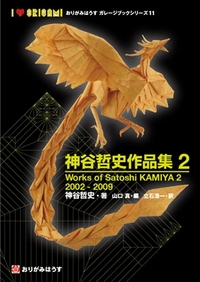 | | |
| --- | --- |
| Skill Level | Complex |
| Clear diagrams? | Yes |
| Tinted diagrams (to show 2 sides of paper)? | Yes |
| Photos of completed models? | Yes |
| Is there indication to the model size resulting from size of starting paper? | No |
| Are the models "Pure" origami (From a single square - no cuts)? | Yes |
Overall Impression

This book is a sequel to Satoshi Kamiya's Works of Satoshi KAMIYA 1995-2003, and collects many of his later designs, some unpublished before, and some published mostly in magazines and convention books, so it's good to have them all compiled in one volume. Many of the models have been revisited and reworked, with English instructions added. Each model is accompanied with design tips and the crease pattern.
As the models are all complex - this is not a beginner's book. However, the patient and hard-working folder will be rewarded with beautiful results.

As always with books published by Gallery Origami House, the quality of the book is superb, with beautiful color photos of all models and very high diagramming standards. All text is in both Japanese and English.
There are 16 Origami Designs in Works of Satoshi Kamiya 2 - 2002-2009: