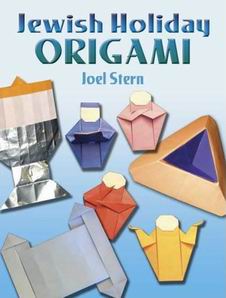 | | |
| --- | --- |
| Skill Level | Simple to low intermediate |
| Clear diagrams? | Yes |
| Tinted diagrams (to show 2 sides of paper)? | Yes |
| Photos of completed models? | B&W photos for all models |
| Is there indication to the model size resulting from size of starting paper? | No |
| Are the models "Pure" origami (From a single square - no cuts)? | Some are from 2 squares |
Overall Impression
This is a nice little book, filled with folds for all major Jewish holidays.
A nice feature here is that there are 2 indexes: one sorted by difficulty, and one by holidays. Each models comes with a B&W photo of the finished work, and text about the subject and how it relates to the holiday.
While simple to fold, the models are very clever, like the 4 sons, which using only a few folds, capture the essence of each character, or the Torah scroll, with it's opening-closing and built-in lock mechanism.
This book will be enjoyed by those interested in the Jewish / Old Testament theme, and by teachers, who will find it as a great tool to illustrate those themes.
There are 24 Origami Designs in Jewish Holiday Origami: