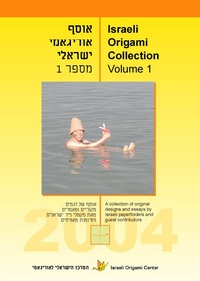 Israeli Origami Collection Volume 1
Published:

2004 by Israeli Origami Center

Pages:

96

Binding:

Paperback

Language:

English and Hebrew
| | |
| --- | --- |
| Skill Level | Simple to complex |
| Clear diagrams? | Varies |
| Tinted diagrams (to show 2 sides of paper)? | Varies |
| Photos of completed models? | Partial |
| Is there indication to the model size resulting from size of starting paper? | No |
| Are the models "Pure" origami (From a single square - no cuts)? | Varies |
Overall Impression
At last - an Israeli convention book!
The book is different from most origami convention books, as, besides diagrams, it also contains several articles about design, folding from crease-patterns and more, and also has many "fun facts" about the models and their subjects. Most contributors are local, and there are a few overseas contributors, too. Complexity ranges from simple to complex.
In the back of the book there are short biographies (with photos!) of all contributors. All the contents in the book are in both Hebrew and English. The inside covers display color photos from the convention in Ein-Gedi, and from the Israeli-Palestinian Peace Project.
Articles
Origami on the Internet - more
than just diagrams!
Gilad Aharoni
The whole origami experience
Gil Givony
The fun life of a folder!
Origametria
Miri Golan & Paul Jackson
Teaching geometry with origami
The Peace Project
Miri Golan
Finishing origami models with varnish
Herman Mariano
Tips from a master-folder
Folding crease patterns
Gilad Naor
With examples and exercises
Binary division
Boaz Shuval
With many complicated equations!
Folding paper in half 12 times
Boaz Shuval
An interview with Britney Gallivan
Origami minimalism
Saadya Sternberg
On Saadya's art
The Israeli Origami Convention
Hagit Shalev
Impressions from the convention
There are 30 Origami Designs in Israeli Origami Collection Volume 1:
Design
Designer
Page
Details
Photo

Show only designs with photos
Regular traingle unit
Tomoko Fuse
5
Square
Multiple units

With several assembly methods
Belt cubes
Tomoko Fuse
7
Square
6 units

Also in BOS Convention 2004 Autumn

Several variations

Folded by Gilad Ayalon
Clamp 90-90
Tomoko Fuse
11
Rectangle - 1X2
30 units

Folded by Rosana Shapiro
Bucks Money
Gilad Aharoni
12
Square

Also in CDO convention 2003
Also in Origami USA Convention 2000

Diagrams also available in the diagrams section
The real thing
Gilad Aharoni
15
Square

Also in AEP convention 2004
Also in Atlas de l'Origami
Also in BOS Convention 2004 Spring

Diagrams also available in the diagrams section
Heart of a clown
Gilad Aharoni
16
Square

Diagrams also available in the diagrams section
Barbecue
Yuval Atlas
18
Rectangle - 1X2
2 units

Excellent

Folded by Yuval Atlas
Rocket
Yuval Atlas
22
Square

Nice

Folded by Yuval Atlas
Star dish
Yuval Atlas
24
Square
8 units

Very nice. Also diagrammed here

Folded by IOC 2004 convention exhibitor
Dinosaur
Miri Golan
26
Square

Also in BOS Magazine 212
Also in Origami Zoo by Paul Jackson and Miri Golan

Excellent, with a cut and no-cut versions

Folded by Miri Golan
Moving lips
Miri Golan
29
Square

Also in CDO convention 2009
Also in Folding for All 2
Also in Quadrato Magico Magazine 95

Very good action fold
Bat hat
Paul Jackson
33
Rectangle - 1X2

Nice!
Dog
Paul Jackson
34
Square

Also in Origami Zoo by Paul Jackson and Miri Golan

Simple and cute

Folded by Gilad Ayalon
Mouse - scuttling
Paul Jackson
35
Square

Also in BOS Convention 2003 Spring
Also in Origami Toys That Tumble, Fly and Spin by Paul Jackson

Cute action model

Folded by Gilad Ayalon
Elephant
Paul Jackson
36
Square

Very nice 2D elephant
4 piece cube
Ittai Hacohen
38
Square
4 units

Nice
T-shirt + Shorts
Nadav Vaks
40
Square

Very nice idea
Two birds

Birds

Herman Mariano
41
Square

Also in Personal Collection

Naughty birds!

Folded by Gilad Ayalon
Warrior
Gilad Naor
42
Square

Very good

Folded by IOC 2004 convention exhibitor
Chrysanthemum kusudama
Lihi Solomon
46
Square
6 units

A no-glue variation of a classic model

Folded by Gilad Ayalon
Tulip
Yehuda Peled
50
Pentagon
Crane pyramid
Avishay Katzur
53
Square

Nice
Fruit
Avishay Katzur
55
Square
Flower
Avishay Katzur
57
Square
Barking dog
Boaz Shuval
58
Square

Cute action dog head

Folded by Gilad Ayalon
Man - standing
Saadya Sternberg
59
Square

Also in Origami USA Convention 1993

Nice

Folded by Gilad Ayalon
Rabbit
Saadya Sternberg
60
Square

Nice
Sparrow
Saadya Sternberg
61
Square

Simple and effective!
Flag of Israel
Jason Ku
62
Square

Also in The Paper Magazine 88

Excellent
Mezuza
Mark Shoulson
64
Rectangle

Nice