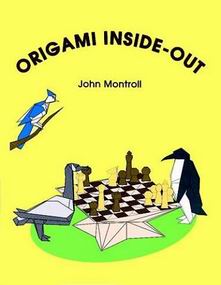 | | |
| --- | --- |
| Skill Level | From simple to complex |
| Clear diagrams? | Yes |
| Tinted diagrams (to show 2 sides of paper)? | Yes |
| Photos of completed models? | No |
| Is there indication to the model size resulting from size of starting paper? | No |
| Are the models "Pure" origami (From a single square - no cuts)? | Yes |
Overall Impression

In this book, Montroll explores the possibilities in using duo-sided paper, making both sides of the paper show in the final model.
The subjects vary - from ghosts and Martians, to multi-colored geometric shapes, to animals, and concluding with a full chess set, complete with a chess board with legs, from 1 square!
A fun and interesting book.
There are 15 Origami Designs in Origami Inside-Out: