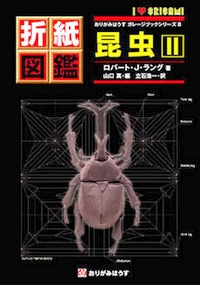 | | |
| --- | --- |
| Skill Level | Super complex! |
| Clear diagrams? | Yes |
| Tinted diagrams (to show 2 sides of paper)? | Yes |
| Photos of completed models? | Yes - beautiful photos, each model is photographed from 2 angles |
| Is there indication to the model size resulting from size of starting paper? | Yes |
| Are the models "Pure" origami (From a single square - no cuts)? | Yes |
Overall Impression

With even more lifelike insects than in his first origami-insects book: Origami Insects and their kin, Robert Lang is offering some of the most challenging models ever conceived. Your fingers are going to hurt, but the results are worth it!
This book is not for the feint of heart - and you cannot achieve good results with just any kind of paper.
Each model comes with its crease pattern, and with Lang's short design comments.
There are 18 Origami Designs in Origami Insects 2: