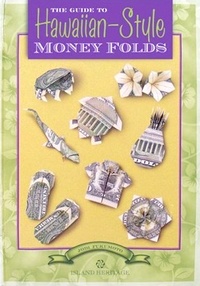 The Guide to Hawaiian-Style Money Folds
Published:

2003 by Island Heritage

Pages:

127

Binding:

Spiralbound hardcover

Language:

English

ISBN-13:

9780896104143

ISBN-10:

0896104141
Buy from: Amazon.com
Buy from: Amazon.jp
| | |
| --- | --- |
| Skill Level | From simple to intermediate |
| Clear diagrams? | Yes |
| Tinted diagrams (to show 2 sides of paper)? | Yes |
| Photos of completed models? | Beautiful Photos |
| Is there indication to the model size resulting from size of starting paper? | No |
| Are the models "Pure" origami (From a single square - no cuts)? | $ bill folds |
Overall Impression
As with all of Fukumoto's books, this book has an impeccable layout. The special binding (spiral inside a hardcover) is very convenient for keeping the book flat, and the photographs are fantastic. The book starts with tips about the types of currency to use, how to calculate the dimensions for paper substitutions, and explanations about the folding symbols.
A new diagramming concept introduced in Fukumoto's books is the color-coded instructions. The text that accompanies the diagram comes in the color of the folding lines on the diagrams, to make it clear what instruction goes where. I find it to be a bit confusing sometimes, but maybe it's something you need to get used to.
The models are very good, and many of them utilize the features of the $ bill in the final design. Every model comes with tips for using paper other than currency bills for folding.
The book ends with instructions for several nice envelopes and boxes for gift-giving use.
There are 20 Origami Designs in The Guide to Hawaiian-Style Money Folds: