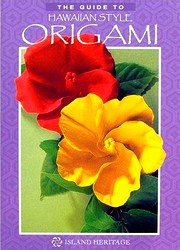 The Guide to Hawaiian-Style Origami
Published:

2000 by Island Heritage

Pages:

182

Binding:

Spiralbound hardcover

Language:

English

ISBN-13:

9780896104211

ISBN-10:

0896104214
Buy from: Amazon.com
Buy from: Amazon.jp
| | |
| --- | --- |
| Skill Level | Simple to complex |
| Clear diagrams? | Yes |
| Tinted diagrams (to show 2 sides of paper)? | Yes |
| Photos of completed models? | Yes |
| Is there indication to the model size resulting from size of starting paper? | No |
| Are the models "Pure" origami (From a single square - no cuts)? | Most are |
Overall Impression
This is a beautiful book, and the models are great, too!
All models relate to Hawaiian heritage, and most of them are flowers of the island. The flower models are some of the best flower models I've seen, and the other models are also very good, intermediate+. The gecko is my favorite - with fingers - and looks very nice.
The diagrams are of great quality, there are amazing color photographs of all the models (and the author explains what papers she used to fold them), and there is a section in the end about selecting papers, layering (back-coating) and wet-folding.
There are 14 Origami Designs in The Guide to Hawaiian-Style Origami: