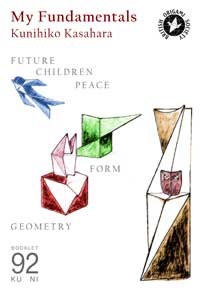 | | |
| --- | --- |
| Skill Level | Pretty simple |
| Clear diagrams? | Yes - hand drawn |
| Tinted diagrams (to show 2 sides of paper)? | On some of the models |
| Photos of completed models? | No |
| Is there indication to the model size resulting from size of starting paper? | No |
| Are the models "Pure" origami (From a single square - no cuts)? | A few are from rectangles |
Overall Impression
If you're after complex models - this BOS booklet #92 is not the book for you.
If you're after Kasahara's cute and lively animals, known in his older books - this is also not for you.
However, if you want to open your mind to some new ideas - this might interest you!
In this booklet, Kasahara explores further his approach of "Minimal Origami" and "Half opened creases", to create expressions and catch the essence of things, rather than represent them in full detail. You can see how you can fold "sorrow" or "anger" with just 3 creases.
The other part of the booklet contains many cube variations created from rectangular units.
Buy from: BOS Supplies
There are 25 Origami Designs in My Fundamentals: