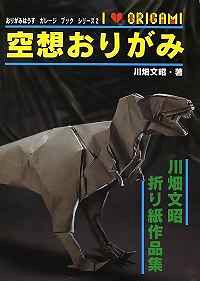 | | |
| --- | --- |
| Skill Level | Complex |
| Clear diagrams? | Yes |
| Tinted diagrams (to show 2 sides of paper)? | Yes |
| Photos of completed models? | Yes |
| Is there indication to the model size resulting from size of starting paper? | No |
| Are the models "Pure" origami (From a single square - no cuts)? | Yes |
Overall Impression

This book has become one of the "Holy Grails" of origami books. It's out-of-print and well sought after.
The models are very complex and detailed, and include many dinosaur species, plus 2 fantasy animals - a unicorn, and the best origami Pegasus I've ever seen.
In the back of the book there's a Japanese article by Kawahata about
creating models.
Update: The book has finally been republished by Gallery Origami House!
There are 19 Origami Designs in Origami Fantasy: