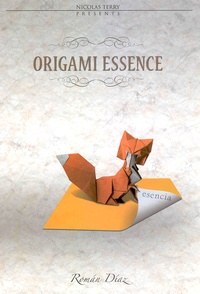 | | |
| --- | --- |
| Skill Level | From simple to complex |
| Clear diagrams? | Yes |
| Tinted diagrams (to show 2 sides of paper)? | Yes |
| Photos of completed models? | Yes |
| Is there indication to the model size resulting from size of starting paper? | Yes |
| Are the models "Pure" origami (From a single square - no cuts)? | Yes |
Overall Impression

The latest offering from Roman Diaz is both a sequel and a deviation from his earlier book: Origami for Interpreters. While the first book was more about personal interpretations through wet-folding and sculpting techniques, the second book, although still offering many interpretation challenges, also contains models which can be folded just by following the instructions, are composed of clean lines, and incorporate great color-changes. These models comprise the first section of the book. The second section has inflatable and polyhedral models, which are more abstract, but with a high "cuteness factor", clever designs, incorporating polyhedrons inside animals. The third section is more in step with the spirit of the first book, offering complex models which lend themselves to wet-folding and shaping, and the closing section is a detailed case-study of designing a complex bullfrog model, starting from a simple traditional frog and gradually adding features, creating several in-between models in the process.
I found the folding-process to be very enjoyable. The steps follow each-other logically, and Diaz does a great job delivering clear and concise instructions.
As in his previous book, each model comes with recommendations from the author about his favorite paper type and size for the project. The quality of the book is the usual very high quality one expects from Passion Origami Collection books.
There are 33 Origami Designs in Origami Essence: