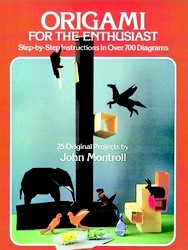 Origami for the Enthusiast
Published:

1979 by Dover Publications

Pages:

120

Binding:

Paperback

Language:

English

ISBN-13:

9780486237992

ISBN-10:

0486237990
Buy from: Amazon.com
Buy from: Amazon.jp
| | |
| --- | --- |
| Skill Level | From simple to complex |
| Clear diagrams? | Yes - hand drawn |
| Tinted diagrams (to show 2 sides of paper)? | Yes |
| Photos of completed models? | A B&W photo for each model |
| Is there indication to the model size resulting from size of starting paper? | No |
| Are the models "Pure" origami (From a single square - no cuts)? | Yes |
Overall Impression
This is the first English origami book I ever had, and when I first saw it. It blew my mind. The animals are so detailed - and all from a square!
It is the first of a long line of books from Montroll, and I still see it as one of the best, even though most of the animals are "open backed" - and some of the model becomes thickish. My favorites are the Pegasus and the Mountain Goat.
The diagrams are hand drawn, unlike Montroll's later books, but still quite clear.
There are 25 Origami Designs in Origami for the Enthusiast: