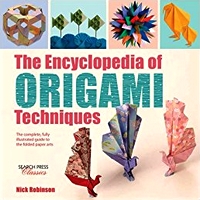 The Encyclopedia of Origami Techniques
Published:

2016 by Search Press

Pages:

160

Binding:

Paperback

Language:

English

ISBN-13:

9781782214748

ISBN-10:

1782214747
Buy from: Amazon.com
Buy from: Amazon.jp
| | |
| --- | --- |
| Skill Level | From simple to intermediate |
| Clear diagrams? | Yes |
| Tinted diagrams (to show 2 sides of paper)? | Yes |
| Photos of completed models? | Excellent photos |
| Is there indication to the model size resulting from size of starting paper? | Yes |
| Are the models "Pure" origami (From a single square - no cuts)? | Varies |
Overall Impression
First, a word of caution: publishers occasionally tend to display photos on the cover of an instructional origami book of models not diagrammed in that book. This might be misleading, and is the case here, so beware.
However, this is the only negative thing I can say about this book. There is a big range of subjects from many creators to please anyone, and the layout of the book is remarkable.
The book opens with a lengthy section discussing types of paper, folding tips, and a very detailed explanation of the folding methods and symbols.
The models are grouped into 3 sections by difficulty, and each model comes with informational text, tips, challenges, quick reminders for the basic maneuvers, and beautiful color photos.
The back of the book presents a beautiful 25-page gallery of models from around the world (with a few photos by yours truly!), with the author's comments accompanying each model.
The book ends with a glossary, something that we should see in more origami books.
A note about the 2016 edition: While similar to the 2004 edition in diagrammed models and text, the new edition does have an updated model gallery section, reflecting contemporary developments in origami and showcasing the work of new talent.
There are 34 Origami Designs in The Encyclopedia of Origami Techniques: