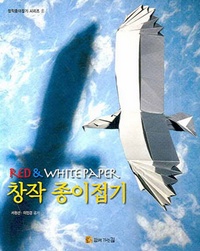 | | |
| --- | --- |
| Skill Level | From intermediate to complex |
| Clear diagrams? | Mostly clear |
| Tinted diagrams (to show 2 sides of paper)? | Yes |
| Photos of completed models? | Very nice photos of all models |
| Is there indication to the model size resulting from size of starting paper? | No |
| Are the models "Pure" origami (From a single square - no cuts)? | Most are |
Overall Impression

Red and White Paper are the pseudonyms of Seo Won Seon and Lee In Kyung, a husband-and-wife team from South Korea. I only found out about their work from their Flickr page, and just had to get their book.
The models in this book are of the "Genuine Origami" style. Angular shapes using precise folding, which do not require much shaping in the end, and usually no special paper is needed for folding the models. The resulting works capture the essence of their subjects with ease. While the insects appear to be very simple in form, the other animals, and especially the fish, have a great appeal to me.
The diagrams do have a few issues. First, some of the diagrams are incomplete. A problem solved by the addition of a small booklet with all the missing steps. This solution works, although I hope everything will be included in the book in the next edition. Also, the diagrams sometimes require a little "Deciphering", so I would not recommend the book to beginners. To anyone with a little experience, though, this book will be an excellent addition to the library.
There are 30 Origami Designs in Creative Origami: