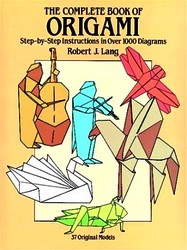 | | |
| --- | --- |
| Skill Level | From simple to complex |
| Clear diagrams? | Yes |
| Tinted diagrams (to show 2 sides of paper)? | Only on some of the models |
| Photos of completed models? | Yes - B&W by Robin Macey |
| Is there indication to the model size resulting from size of starting paper? | No |
| Are the models "Pure" origami (From a single square - no cuts)? | Some are from rectangles, or triangles. Some of the rectangles have strange proportions |
Overall Impression

Robert J. Lang is one of the world's leading folders. This book shows some of his early work, progressing from the very simple to super-complex designs.
The thing I don't like about this book, is the fact that the written instruction are separated from the drawn diagrams - which makes the flow less comfortable.
Other than that - it's one of those "must have" books, due to to the challenge and intrigue of the models.
There are 37 Origami Designs in The Complete Book of Origami: