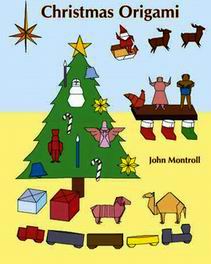 | | |
| --- | --- |
| Skill Level | Low intermediate to complex |
| Clear diagrams? | Yes |
| Tinted diagrams (to show 2 sides of paper)? | Yes |
| Photos of completed models? | No |
| Is there indication to the model size resulting from size of starting paper? | No |
| Are the models "Pure" origami (From a single square - no cuts)? | Yes |
Overall Impression

This book has everything you need for a Christmas presentation in origami.
Other than the mandatory Santa and Nativity scene characters, you can find here all the players in "The 12 Days of Christmas" song, a candy cane, and even Christmas gifts like a train-set and a nut-cracker, among others.
Most models are accompanied by a fitting Christmas song Unlike most Montroll's book, I wouldn't recommend this book to absolute beginners, as the models are getting complicated from the start.
There are 43 Origami Designs in Christmas Origami: