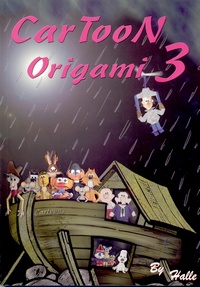 Cartoon Origami 3
Published:

2002

Pages:

156

Binding:

Paperback

Language:

Spanish
Buy from: Origami-shop.com

| | |
| --- | --- |
| Skill Level | Intermediate |
| Clear diagrams? | Yes |
| Tinted diagrams (to show 2 sides of paper)? | Yes |
| Photos of completed models? | Yes - in color |
| Is there indication to the model size resulting from size of starting paper? | Yes |
| Are the models "Pure" origami (From a single square - no cuts)? | No - all are multi piece and the pieces are in different sizes. |
Overall Impression

This is the 3rd installment of the "Cartoon Origami" series, by the talented Halle. 18 new toons here, including 3 Sesame Street puppets, a representation of French, Belgian and Spanish cartoons, as well as the popular "South Park" gang! All beautifully recreated in origami.
As the other books, this is not for the origami purist - the models are compounded from 6 to 13 parts, of different size squares. So it's more like fun toys to build.
In the back of the book, Halle adds a section about creation, and his "Trade secrets". This section is in Spanish and English.
There are 18 Origami Designs in Cartoon Origami 3: